How To Choose Bridal Shapewear & Lingerie For Your wedding Day
Choosing the right bridal shapewear or bridal lingerie for your wedding day is absolutely crucial.  Working in the bridal industry, we have probably encountered and seen everything when it comes to undergarments for your big day.
From seamless boy-shorts, to full-body Spanx, to low-neck camisoles. You name it, we've worked with it. That's why we wanted to chat to you about shapewear and wedding lingerie brands and give our best advice for every unique situation to help you navigate all the different types of bridal underwear there is in the retail world. Hopefully it helps to make your decision easy when choosing what to wear under your wedding dress. At the end of the article we'll also delve into our list of best recommendations for where to buy bridal lingerie and where to find the best tape for wedding dress too.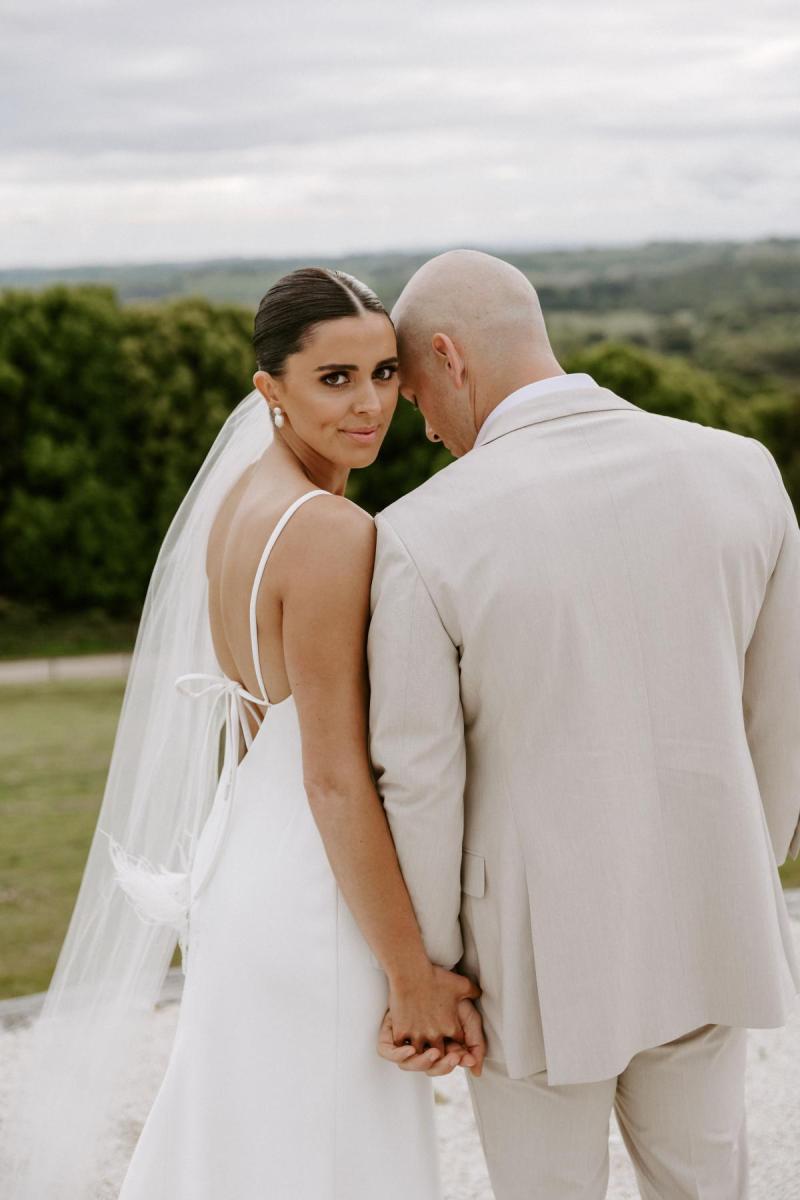 We always want our brides to feel their most confident on their wedding day…
Most of the time brides will choose to wear some sort of shapewear, bridal lingerie or seamless underwear. They help give cleaner lines under your gown (or pants if you're wearing our Bardot or Danielle). In saying that though, we want to emphasise that whether or not you're wearing a gown with a bigger skirt where you typically don't have to worry about seam lines/undergarment shapes; we want to encourage all of our brides to wear whatever bridal underwear they feel best in, at the end of the day our recommendations are all about helping you feel your most confident, and only you get to decide what that means!
Now, if you are deciding to wear shapewear, we always recommend bringing your undergarments to your appointments. From your first appointment of trying on gowns all the way to your final fitting, bring some bridal lingerie options along so you can see what works best for you. Bonus tip, always try to wear a pair that is closest to your skin tone.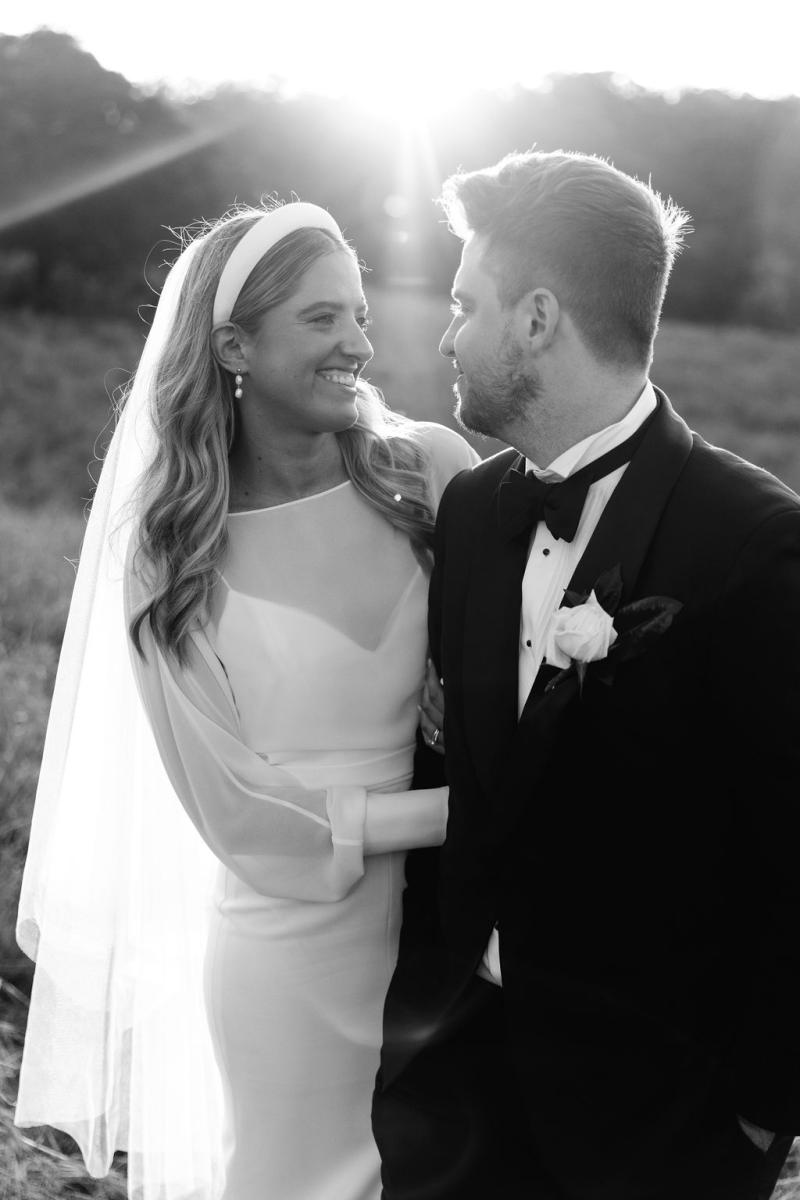 Seamless, Seamless, Seamless.
Don't forget that word.
Whether you're wearing a lace gown or a simple silk dress, seam-free wedding underwear and bridal lingerie is your best friend (as in nude lingerie). The last thing you want to see in your wedding photos is an image of you and your partner on your big day – and then an underwear line right where there shouldn't be one. In addition to hunting for seam-free wedding underwear, searching for the perfect wedding thong is another great option for avoiding lines.
Make sure to always buy a size up as well. This might sound strange, but you don't want any part of the bridal underwear digging into your skin and creating a line under your wedding dress. If you're nervous, purchase a couple of bridal lingerie options and you can return the one that doesn't work.
And please, take our advice: wearing a size down won't help achieve your desired look and plus, you won't get to enjoy all that food you've paid for! Sizing up is always the key, as it won't cut in anywhere and will leave you feeling comfortable all day and all night.
Most brides typically have a few months between searching for their gown and the big day. In that time, you might be hosting a few more celebratory events like an engagement party, bridal shower, hens night, or rehearsal dinner. These are all perfect opportunities to test different brands and styles of wedding lingerie to see which suits you and how they sit on your body, and to see if your nude lingerie is the perfect skin tone match under white garments.
Wedding Lingerie For Plunging Bridal Gowns
Bridal gowns have changed over the decades, and shapewear and bridal lingerie has come a long way right along with them. Many brides are opting for a sexy, plunging bridal gown and want to feel confident and comfortable while wearing it (of course!) We love all the options SPANX has for plunging necklines, from bras to full-body suits.
Wedding Lingerie For Brides Who Want To Target Their Tummy
Tummy control underwear is one of our most requested items for brides searching for undergarments or bridal lingerie to wear with their gown. If you feel confident everywhere else but just want something that allows you to drink those glasses of champagne and eat your delicious food and still be carefree without having to worry about how you're standing in candid photos, then tummy control underwear is the way to go. We love options like those that Nancy Ganz offers that have an 'X' over the stomach area on high-waisted underwear. (Bonus: they also have a 'shop by target area' selection if you have another body part you're looking for coverage/control for.)
Wedding Lingerie For Backless Wedding Dresses
Backless shapewear and low-back shapewear is incredibly important as so many wedding gowns are now backless. There are an overwhelming amount of options available out there for open-back shapewear but the low-back solutions we recommend the most is by Skims.  Plus, if you're hunting for the best coverage all over for wedding dresses, we can't get enough of their multi-option ranges. If you're finding it hard to source a pair from Skims, we also recommend a low-back bodysuit from Spanx.
Recommendations For Brides Who Want To Wear Bodysuits or Corsets
Corset shapewear is something many brides ask about. While we always encourage each of our brides to wear what she feels best in, we do recommend staying away from corset shapewear. It's difficult to hide a corset under most fabrics and we find that shapewear with midsection control offers the same result without the hassle of trying to hide your undergarment. Try a bodysuit for your wedding dress instead. A bodysuit under your wedding dress will provide full coverage, and, depending on the intensity of control offered, can cinch you in, in much the same way as a corset can. (Plus, it's way more comfortable for long-term wear!) SPANX & Skims offer a huge variety of options for this.
Recommendations For Brides Searching For A Bra For Their Dress
Similarly to corsets, we recommend our brides go braless in our gowns. Options like having cups sewn in (for cup size D and under), having a bra installed in your gown (for V-neck styles), or going completely cup-free are always preferable. Why? This way you don't have to fuss with two separate items, you will never have to worry that if you move a certain way some of your bra will show, and having your bra built into your gown just makes the whole process of dressing on your big day that much easier. (Plus, no shifting!) However, if you decide a bra is best for you and you're searching for the best strapless bra for your wedding dress or the best push-up bra for your wedding dress, then we'd definitely recommend having a look at the bridal lingerie range from Bras'n'things. (Or, go the modern way and look into a skin colour physio tape from the chemist as another bra alternative. This trade secret is known to keep the integrity of your skin intact and not create irritation or damage.)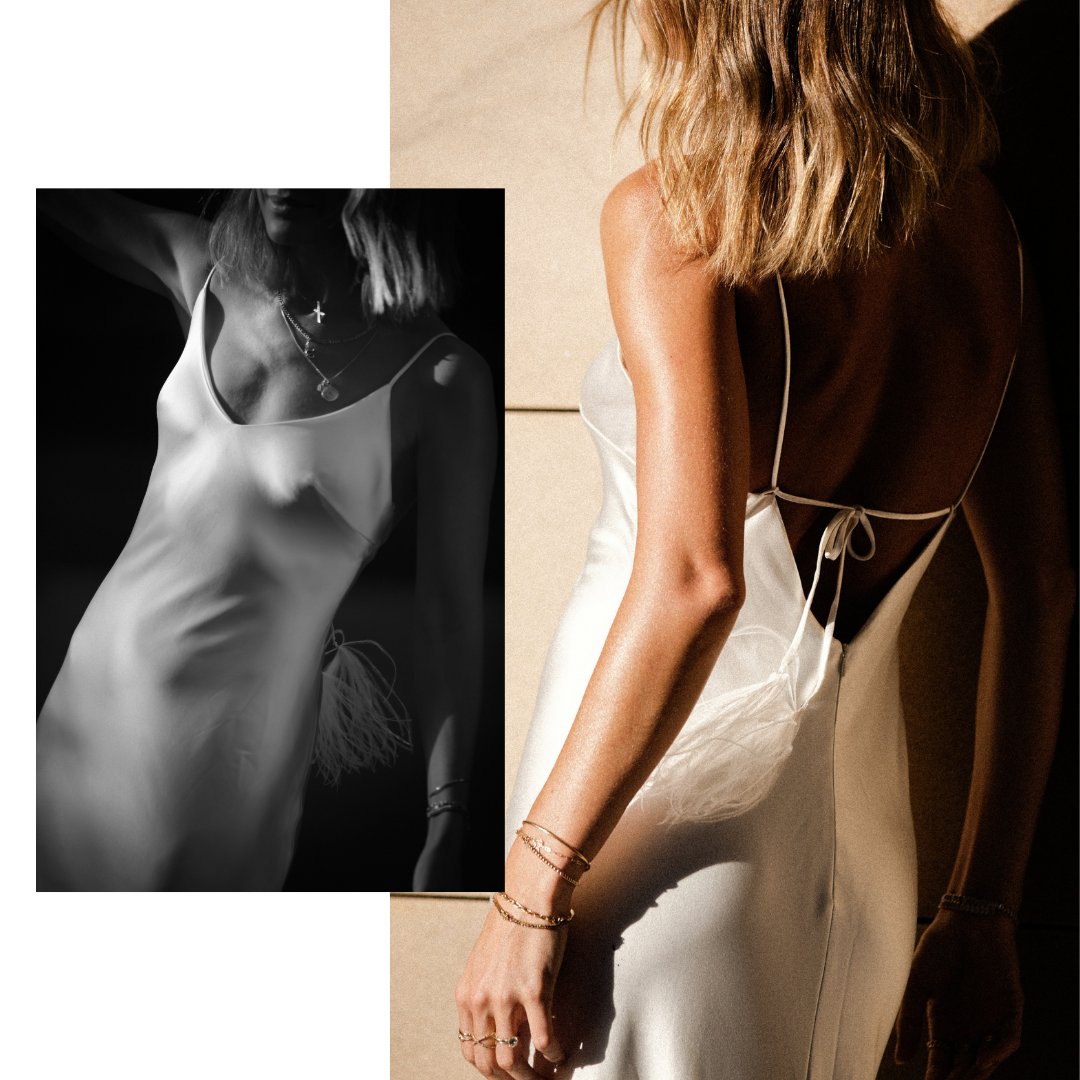 Has this got you thinking more about which dress shape is best for you and your wedding?